Generador Data Matrix código barra gratuito
Dimension:
pixel(s)
Encodation:
Tamaño
GS1
GS1-Data matrix, Ponga paréntesis antes y después de cada Identificador aplicación (AI). FNC1 se agregará automáticamente cuando sea necesario. Por ejemplo, (02)12345678901234(10)12345678901234567890
Datos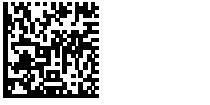 Data Matrix Barcode
is a two-dimensional barcode symbology with large data capacity. Its size ranges between 10x10 and 52x52 modules. Each module is black or white.
Data-Matrix can encode ASCII and extended ASCII characters up to 1000. Therefore, Data-Matrix is a good solution for encoding large data in one barcode.